A Horror Comic With Accompanying Soundtrack: House Of Waxwork #1 Reviewed
by Oliver MacNamee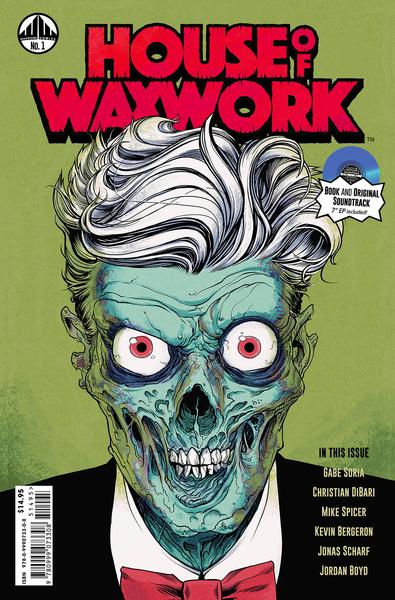 Now this is something you don't get every day of the week at your local comic book store. A comic and record combo pack that Waxwork Records intend to spin into an ongoing series, with each anthology offering a couple of horror stories to accompany the original soundtrack included.
Waxwork Records have carved out a corner for themselves within the burgeoning business of original sound tracks coming back to vinyl, often with groovy new covers and more often than not, coloured vinyl too! But, this is surely first of the modern age: what with combining comics and music as one integrated package? Read the comic while listening to the accompanying score on your turntable.
This first issue of House of Waxwork,  debuted with a gruesome green 7″ EP vinyl (and digital download) offering the reader a much more sensual and sensory reading experience, but is it just a gimmick? No, not really, as both the comic and the EP are clearly both well crafted.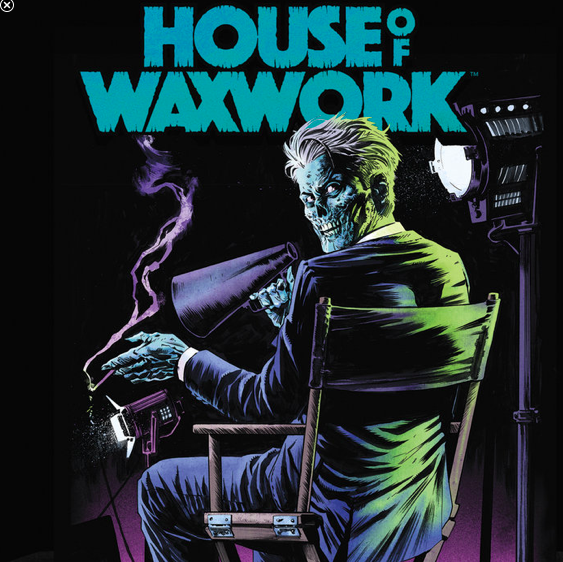 The two stories included are a throwback to the kind of pulpy, trashy horror stories–and in particular the films (often finding themselves going directly to video)–of a bygone era. The era of 'video nasties' and trashy horror but visceral horror. To add to this sense of the familiar, enter the comic's narrator, the ghoulish Die-rector, staring at the reader from the cover of the comic as well as the sleeve of the EP.
There's no escaping his dead-eyed stare! Immediately, The thoughts of The Crypt Keeper to The Vault Keeper from the classic EC Comics come to mind. The Die-rector is a great addition to these hyperbolic horrors, and equally as petty with his intentionally dire puns, even though he's only in it for the one splash page. Hopefully, we'll see more of him in future issues; just don't wind up on his casting couch, I reckon.
The first story, "Occult Slumber Party" (by writer Gabs Soria and artist Christian DiBari)  tells the story of one family stuck and with nothing better to do but play a board game to while away the hours. Think Jumanji meets Nightmare on Elm Street and you're there. The second strip, "Lighthouse Keeper" (by writer Kevin Bergeron and Jonas Scharf) sees a freed convict, having seemingly served his time, take up the only job he can find; that of a lighthouse keeper living in solitary confinement in the lighthouse for three months. That can do things to your mind, and so it does.
Both are creepy psychological horrors, but it's the artwork of the second story that took my fancy. That's not to say the art for "Occult Slumber Party" was poor – it reminded me somewhat of an in-development Sean Gordon Murphy— but Jonas Scharf is this issue's star for me. Not only does he have slight touches of Bernie Wrightson about his art, but the producers of this comic didn't miss a trick in having him produce the cover and splash page, which also doubles up as the EP's cover too. A name to watch out for, methinks and one I hope sticks around on this title too.
Add to this accompanying mock posters (both designed by horror movie poster maestro Marc Schoenbach, who creates stunning homage posters like these all the time) that are straight outta the 80's and had me fooled (I thought the first was an advert for some other kind of tie-in with the comic, but it wasn't) and you have an entertaining, fun comic that serves up two heartily horrific pulp stories for your reading pleasure. There's been some real thought beyond the printed page that's gone into this comic and I hope to see more of these false film posters in future issues.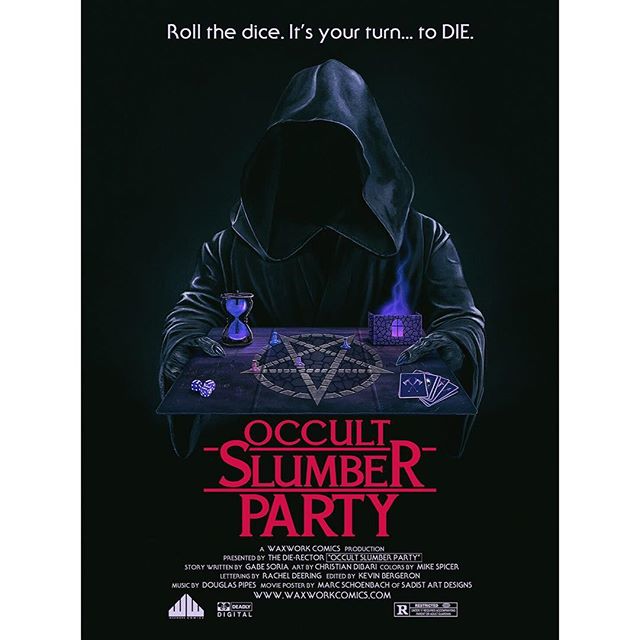 As for the soundtrack? Well, I'm glad you asked.  Each track on this 3 track EP is underpinned by the synth-sound familiar to any John Carpenter fans, or anyone even remotely familiar with 80's horror movies, but then the symphonic sounds of the Budapest Symphonic Orchestra kick in on the first track, House of Waxwork Theme and adds a touch of class to the whole thing and an appropriately spooky sound too. The opening reminded me of The Sorcerer's Apprentice from Fantasia, but with more menace. It really works well as both an original score intent on homaging the schlocky horror soundtracks of the past, and as a theme tune for the company. Who needs a mission statement when you can let the music speak instead?
Occult Slumber Party, by Douglas Pipes, and Lighthouse Keeper by Creeper are of a similar vintage, although the latter is far more reliant on synthesisers to inspire their tune; feeling even more like a Carpenter concoction. All three are both evocative and nostalgic of the era the music and comic intend to pay tribute to and equally great, moody, haunting scores. There's a reason people are turning back the clock and hankering for the horror soundtracks of their rebellious years. The music was great, even if the films they appeared in weren't.
Both a great debut comic and top tunes on the record, and with fake posters in addition, this is one debut that's certainly wants you to pay attention. It's got mine. What about yours?
House of Waxwork #1 is available now from Waxwork Records.