Tradewaiting – September 20th, 2017 Releases
by Noah Sharma
A lot of comics come out every week. It's easy to get lost in the sea of #1s and dramatic new status quos as they crash. That's why I'm here. Whether you said you'd revisit checking that series out when it was collected in trade, or you simply never noticed the announcement of that awesome OGN, whether you're just waiting for that hardcover to come out in trade, or have been longing for a collection of your favorite stories since childhood, Tradewaiting is here for you, with the complete Diamond list of graphic novels and collections as well as some recommendations to scoop up.
So, without further ado, here's what's coming to the bookshelves of your LCS this fine week of September 20th, 2017.
HIGHLIGHTS
Power Man and Iron Fist vol. 3: Street Magic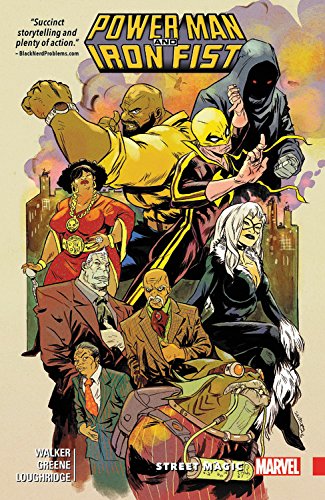 A series that thrived on the street corners and back alleys of The World Outside Your Window, David F. Walker and Sanford Greene's Power Man and Iron Fist vol. 3 is fully collected this week. Having already reinvigorated Luke Cage and and Danny Rand, Walker turned his eye on expanding their rogues gallery in these stories.
With Tombstone and Black Mariah already front and center, Walker and Greene set about bringing a host of classic Power Man villains back to notoriety, overcoming years of neglect and some questionable powers purely by virtue of their world-building. The duo also pit the Heroes for Hire against one of Marvel's most criminally underused villains as he takes advantage of the situation to position himself as the Grandmaster of Street Magic and the undisputed boss of Harlem.
The charm of street magic is as effective as ever and, put squarely in the focus, the concept shines.
With Greene's stylish art carving personality into the page and Walker's wild ideas and grounded writing to depend on, Power Man and Iron Fist remains a charming, quality book right until the end.
Mister Miracle by Jack Kirby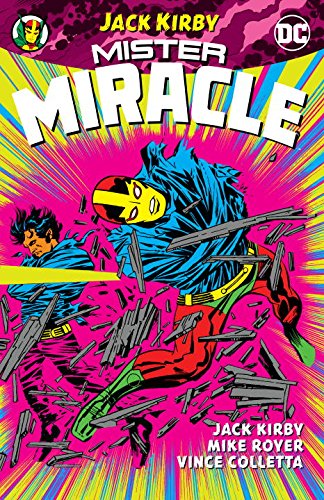 This year marks the what would have been Jack Kirby's hundredth birthday and DC has done an admirable job of honoring the king of comics. While public acknowledgement and a series of one-shots celebrating his characters are welcome markers of a foundational presence within the industry, I'm happier to see this, a new printing of Kirby's complete run on Mister Miracle.
One of the three new Fourth World titles Kirby launched in 1971, Mister Miracle follows Scott Free, the son of Highfather of New Genesis and the hostage of Darkseid of Apokolips, as he and his love, Big Barda, escape to Earth and start a life there. Hunted by earthborn threats and the New Gods of Apokolips alike, Scott puts the endless creativity and determination that allowed him to free himself to use as Mister Miracle, the world's greatest escape artist.
The longest running of Kirby's Fourth World titles, Mister Miracle was probably successful because it was the most traditional superhero tale of the bunch, however Scott Free is anything but traditional. A pacifist hero with a tragic, torture-filled backstory that he doesn't brood over, Scott uses his incredible powers to entertain, to live life, and to avoid conflict.
And all that's to say nothing of the wonderful relationship between Scott and Barda, based in large part on that of Kirby and his wife.
This is Kirby all the way, writing, pencilling, coloring, editing. That means that in addition to the wild creativity of the man who brought us both The Fantastic Four and Darkseid, you're also getting a legendary artist tuned to exactly the kind of explosive pop mythology that he invented.
So whether you've been waiting for an easy chance to pick it up, are looking for a great way to celebrate Jack Kirby's centennial, or simply want to learn more about the man they call king, Mister Miracle by Jack Kirby would make a fine addition to your collection. And at $29.99 for all eighteen issues in color and in one volume, you're getting a pretty good bang for your buck.
Those two really caught my eye this week, but there's plenty more if they don't do it for you. Here's Diamond's complete listing of collections and graphic novels for this week.
DARK HORSE
END LEAGUE LIBRARY ED HC
DC COMICS
BATMAN DARK KNIGHT MASTER RACE HC
BATMAN THE COURT OF OWLS COLORING BOOK TP
CATWOMAN BY JIM BALENT TP BOOK 01
DC MEETS HANNA BARBERA TP
HARLEY QUINN A CELEBRATION OF 25 YEARS HC
LEGION BY DAN ABNETT & ANDY LANNING TP VOL 01
MISTER MIRACLE BY JACK KIRBY TP
NIGHTWING TP VOL 03 NIGHTWING MUST DIE (REBIRTH)
SCOOBY APOCALYPSE TP VOL 02
IDW PUBLISHING
STAR TREK CLASSIC UK COMICS HC VOL 03
TMNT ONGOING (IDW) COLL HC VOL 05
IMAGE COMICS
EAST OF WEST TP VOL 07 (MR)
INVINCIBLE TP VOL 24 END OF ALL THINGS PART 1 (MR)
LAST DAYS OF AMERICAN CRIME TP (MR)
SAVAGE TOWN OGN (MR)
SON OF SHAOLIN OGN
SONS OF THE DEVIL TP VOL 03 (MR)
MARVEL COMICS
CAPTAIN AMERICA SECRET EMPIRE TP
DAREDEVIL EPIC COLLECTION TP HEART OF DARKNESS
DOCTOR STRANGE PREM HC VOL 04 MR MISERY
MOON KNIGHT TP VOL 03 BIRTH AND DEATH
POWER MAN AND IRON FIST TP VOL 03 STREET MAGIC
THOR THE TRIAL OF THOR TP
THOR WORTHY ORIGINS TP
COMICS & GRAPHIC NOVELS
7TH GARDEN GN VOL 06
ANIMAL LAND GN VOL 12 (RES)
ANOMALY HC VOL 02 RUBICON
ANOMALY HC VOL 02 RUBICON SPEC LTD COLL ED
ASSASSINATION CLASSROOM GN VOL 18
BABY SITTERS CLUB COLOR ED GN VOL 05 DAWN IMPOSSIBLE 3
BRIDES STORY HC VOL 09
CASE CLOSED GN VOL 64
DAM KEEPER HC GN
DESCENDING STORIES GN VOL 03
DISNEY DESCENDANTS ROTTEN TO THE CORE GN VOL 02
DOCTOR WHO GHOST STORIES HC
FANTAGRAPHICS STUDIO ED HC HAL FOSTER PRINCE VALIANT (RES)
FAUNS AND FAIRIES ADULT COLORING BOOK (MR)
FRED THE CLOWN IN IRON DUCHESS GN LANGRIDGE
GOLDEN KAMUY GN VOL 02 (MR)
GOODNIGHT PUNPUN GN VOL 07 (MR)
GRAVEYARD SHAKES GN
HONEY SO SWEET GN VOL 08
HOW TO RAISE BORING GIRLFRIEND GN VOL 07
IT SECRET WORLD OF MODERN BANKING TP
JEFF STEINBERG TP (MR)
KISS ME AT STROKE OF MIDNIGHT GN VOL 01
KUROKO BASKETBALL 2IN1 TP VOL 08
LIGHTER THAN MY SHADOW GN
LITTLE RED WOLF HC
MAGI GN VOL 26
MANDRAKE THE MAGICIAN FRED FREDERICKS DAILIES HC VOL 01
MASTER KEATON GN VOL 12 URASAWA
MOVIE ART OF SYD MEAD VISUAL FUTURIST HC
NARUTO 3IN1 TP VOL 20
NEIL GAIMAN GRAVEYARD BOOK COMP SC GN
NICHIJOU GN VOL 10
OF THE RED LIGHT & AYAKASHI GN VOL 08
PARK BENCH (G13) GN
PLUM CRAZY TALES OF TIGER STRIPED CAT GN VOL 02
POKEMON XY GN VOL 12
PRE CODE CLASSICS JET POWERS SPACE ACE HC VOL 01
PRE CODE CLASSICS STRANGE TERRORS HC VOL 02
PRESENT HC
PRIDE OF THE DECENT MAN HC
REGGIE AND ME TP
REGULAR SHOW TP VOL 09
RUST TP VOL 03 (OF 4) DEATH OF ROCKETBOY
SEVEN DEADLY SINS GN VOL 22
SHORT CON GN (RES)
SO CUTE IT HURTS GN VOL 15
SUNFLOWER TP
TODAY CERBERUS GN VOL 05
TOKYO GHOUL RE GN VOL 01
ULTRAMAN GN VOL 09
WELCOME TO BALLROOM GN VOL 07
WORLD TRIGGER GN VOL 17