Behold! Adventure! – Watch The Trailer For Allen: Son Of Hellcock
by Hannah Means Shannon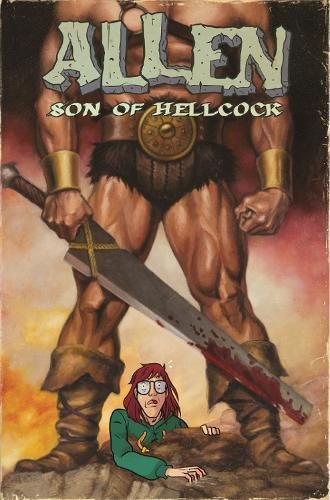 You can now watch the animated trailer for the book about the greatest warrior of all time. Written by comedy duo Will Tracy (Last Week Tonight With John Oliver, The Onion) and Gabe Koplowitz (Viceland), and illustrated by artist Miguel Porto, the collected edition of Allen, Son of Hellcock arrived this week from Z2 Comics, and cracked open a world of "washed-up sorcerers and swordsmen, terrifying horse-donkeys, sensitive ogres, cynical blob-men".
Essentially, slacker and geek Allen is haunted by the ghost of his great warrior father Hellcock, and has to learn to find his place in this world in this Conan and pulp fantasy inspired spoof with a little more heart than you might be expecting.
In our recent interview with Will Tracy and Gabe Koplowitz, we had the following enlightening exchange about the book on the subject of heroism:
HMS: I'm reminded of "Brave Sir Robin" in Monty Python and the Holy Grail, and the idea that ideals are often very incriminating when compared to real life. What is it about Allen that makes him a worthwhile being, even if he isn't cut out to be hero like Hellcock?
WT: I think part of what redeems Allen is the fact that, as the story goes on, we start to learn that Hellcock himself maybe wasn't all he was cracked up to be. In fact, the legend that precedes him is actually way more impressive than the actual man, who is largely revealed to be a little thoughtless, very impulsive, not always too bright, and far more invested in preserving his own myth than displaying actual heroism. Which I think is probably the case with most heroes. They're a mile wide and an inch deep. Or, deep down, they're just as insecure and terrified and flawed as the rest of us. Let's not forget, Sir Lancelot in that film murders an entire wedding for no reason. Heroes are kind of the worst.
And then there's lots of famous people who have said dubious things about this questionable book:
"I don't often provide blurbs for books, but when the writers literally have you chained to a wall and are refusing to let you leave before you give them one, you tend to relax your standards. Enjoy this book. I did. Now let me go, please." — John Oliver
"As an unsolicited exercise in juvenilia, ALLEN,SON OF HELLCOCK is very funny and wonderfully illustrated. I was equally surprised by how much I liked it and that it existed at all." — Jesse Eisenberg
"I've known Gabe Koplowitz since he was 9 years old, and I'm baffled by this. I thought maybe he'd be a doctor — I was thinking podiatrist. But now this… What is this? Is it about vikings or Millennials? And is Allen wearing tights? Why is Allen wearing tights? And who is Will Tracy? I think this Will Tracy is a bad influence." — Dave Eggers
"Please stop emailing me."—Chip Zdarsky
"The Fatheads who wrote  ALLEN,SON OF HELLCOCK, don't laugh at jokes. No. They listen, then nod their heads, sagely, and make comments like 'ah, yes.  That is quite funny' and 'I see what you are doing, verbally, with the use of outrage-e-osity vis-a-vis logic.'  They make up words like 'outrage-e-osity'!  Honestly! I have no time for any of them…" — Tom Hanks
Without further ado, watch the surprisingly impressive trailer below: