My Graphic Novel Kickstarter Before And After: Part 1
by Tito W. James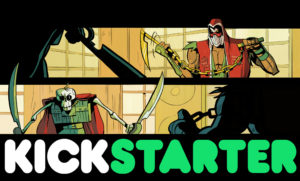 Many people want to create comics but aren't sure how to get funding for projects. This article is about my own experience using Kickstarter to bring my graphic novel to life.
ORIGIN STORY
I got into comics my sophomore year at College. DC had launched the New 52 and Marvel came out with Marvel Now! As someone who had only experienced comic characters through movies and video games I found it to be an easy jumping on point. I read superhero comics like Wonder Woman then branched out into more indie comics like Luther Strode.
After reading so many comics I decided I wanted to create my own. Like many young creators, I was dead set on working for Marvel or DC. Spoiler Alert kids: Large companies won't (and shouldn't) hire fans or amateurs. If you really want to work at your dream company then you have to create your own original work and have it sell. Your original comic must be on par or better with anything that is produced at Marvel or DC.
When it came time to pick artists for comic projects, I chose people whose style reminded me of Samurai Jack and Gobelins Animation. I worked with Remus Buznea, Guillermo Lizaran, Bruno Seelig and Jonatan Cantero. Together we created a series of short comics that could be compliled into one graphic anthology entitled Crossbone Jones: And Other Twisted Tales.
PITCHING TO PUBLISHERS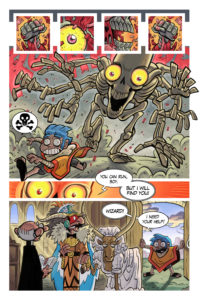 If I could go back in time, I would have done more research about publishers before even starting a comic project.
What I've learned from chatting with industry professionals is that graphic novels are a tough sell because it's more expensive to produce the books and there are no floppies (individual comics) to help compensate for the cost of the collected graphic novel. It's less risky for publishers to pick up a four-issue mini-series because if it sucks and gets cancelled, that wasn't too much money wasted. If its good and the creators keep going they can compile those four issues into a volume of a graphic novel.
In my case, I made a graphic anthology that complied all the comics I released on my website. If pitching one comic to a publisher is giving an editor one opportunity to say "no" then pitching an anthology is giving them five opportunities to say "no."
I was rejected by every comic publisher I applied to — and I had applied to them all.
KICKSTARTER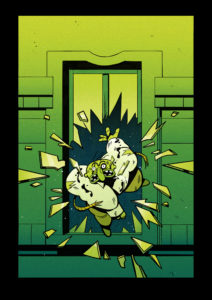 Kickstarter should be your last resort, not your first option. Though I had been rejected by indie publishers, I was told repeatedly that the art was professional quality and that I should keep at it. I chose to fund Crossbone Jones: And Other Twisted Tales on Kickstarter because I thought there would be an audience for this type of comic and that I owed it to that audience to try and get it into their hands.
Furthermore, by Kickstarting this graphic novel, it shows publishers that me and my team are serious and capable of doing even greater works in the future.
At first, the idea of doing a Kickstarter seemed daunting and I was very nervous. However, Kickstarter is set-up in a very user-friendly way ,so my nerves dissipated. Below are my full responses to Kickstarter's questions.
Project description
Crossbone Jones and Other Twisted Tales is a 90 page, full color, graphic novel of action-heavy short stories.
Giant monsters, skeleton pirates, superheroes, noir mobsters, and magical girls all can be found within the pages of Crossbone Jones: And Other Twisted Tales. Get ready for action, laughs, and jaw-dropping art from across the globe!
The project has been fully illustrated and the three longest stories can be viewed at www.titowjames.com. The Kickstarter is to cover the costs of writing, printing, and shipping the graphic novel.
Risks and challenges
This is my first time doing a Kickstarter and because of that I'm going to keep the rewards simple. All the artwork is complete so we get the funding we should be able to print copies for people who want them.
BUDGET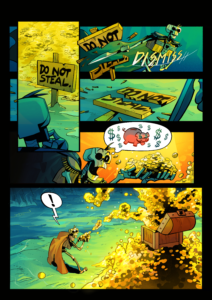 My case is unique because I had already paid all my artists and they completed the artwork. What it really came down to was the cost of printing and shipping.
I plan on using Print Ninja because it was recommended to me and the cost of printing up a graphic novel are very straightforward.
Shipping media costs $3.10 where I come from.
Kickstarter will take 5% of the total budget.
Don't forget to include yourself. It may feel weird to ask people for money, but being professional means getting paid. That being said, don't over-inflate your budget to match your ego.
WHAT'S NEXT?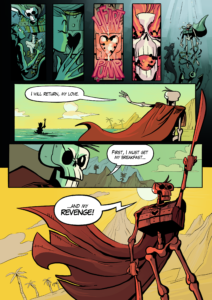 It's been a long journey to come to this point. My Kickstarter is currently live and I'll create a Part 2 to this blog and reflect on my experience after the campaign has ended. I hope this blog has proved useful and best of luck to all of you're creative projects.