5 Point Discussions – The Flash 3.04: "Elongated Journey Into Night"
by Sage Ashford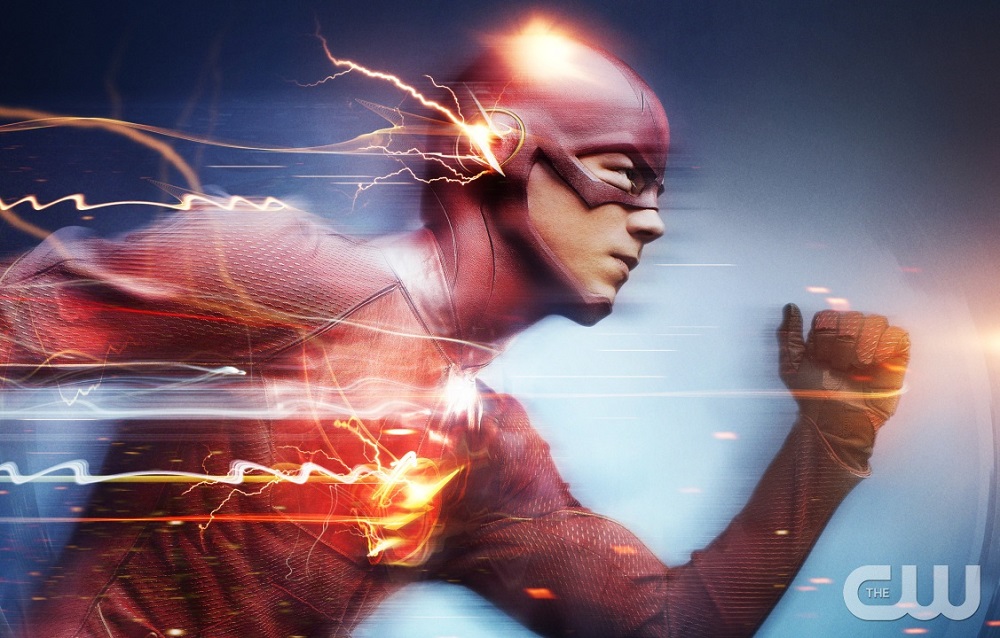 Team Flash has to deal with another of the Thinker's metas, who has a strange connection to Barry and Joe's past. But that's nothing compared to what Cisco has to deal with–Gypsy's father!  Remember, if you like this article and 5 Point Discussions, please be sure to share it on Facebook and Twitter. And if you have any questions or comments, hit me up @SageShinigami on Twitter.
1. This might be one of those times where I have to go against the grain, but Danny Trejo just did not work for me this episode. Introduced while Cisco and Cynthia Gypsy are on a date, without having seen any previews I actually thought he was the villain of the episode when things started. Overprotective fathers can be funny, and occasionally even cute, but Breacher Josh legit showed up and started wrecking Cisco's apartment while threatening to murder him. Most of the time his stoic demeanor was more off-putting than humorous, and it kinda took the overprotective thing over the line into just being creepy. The master hunter of Earth-19 hunts his daughter's boyfriends? That's just interfering with his daughter's love life on a level that's uncomfortable.
Moreover, his role in the climax of the episode sucked a bit of the fun out of what was up to that point a great episode. It's annoying enough for the guy to terrorize Cisco, but for him to be the equivalent of a cop on his world and yet still interfere with a case like he did felt impossibly stupid. Flash is known for having the occasional episode where the A plot is dramatic while the B plot is comedic in nature, but they don't usually intertwine them this clumsily. Still, that wasn't enough to ruin things and overall this episode continues the trend of being a much better season than season three or two, I'd argue.
2. Team Flash's attempt to track down the group of metahumans created from DeVoe's bus accident results in the group discovering someone from Barry and Joe's past–Ralph Dibny, a disgraced former cop who's since become a detective. Hartley Sawyer plays the character perfectly–a once decent guy who made a single mistake that's been following him ever since. The only real problem with him is that he looks almost too straight-laced to have screwed up in the first place, but they definitely chose someone who has a leading man look to him, and he seems to be capable of balancing the serious with the comedic perfectly.
Ralph leads us to the main "villain" of the episode, another former cop that's become the Mayor of Central City. After Ralph tries to blackmail him when he discovers the mayor's infidelity, the mayor makes several attempts to have the detective killed, even going so far as to try and off Barry and Joe for learning about his cheating. It's funny that the most normal villain on this show still involves a guy with malleable control over his every limb and a dude who can warp himself through space/different universes, but I appreciate Flash's willingness to consistently be as weird as possible.
Speaking of, I don't think I'd ever realized it before but the pure body horror of stretching powers is absolutely gross in live-action. There's a moment where Ralph sneezes and his face falls apart where Joe immediately vomits and it actually felt more out of place that he was the only one with that reaction.
3. Barry wound up coming off like something of a jerk this episode. From the moment Ralph is brought up, his personality becomes contentious, becoming terse with everyone around him. Initially it makes sense–we learn that Ralph illegally planted evidence in order to get a man accused of murdering his wife put in jail, and Barry was the reason the false evidence was discovered. But ultimately, one would think Barry would be happy having gotten Ralph fired…instead he still holds a grudge, though not for any respectable reason. He just sees his own behavior reflected in Ralph, and seemingly wonders if he doesn't deserve some consequences for his own selfish actions in prior seasons. That's almost a fair enough reaction, it's just it makes Barry look pretty bad when he's calling Ralph a villain for something it's obvious he has nothing to do with and claiming they shouldn't even bother to help him with his powers.
There's stopping a villain, enabling a villain, and this episode Barry got awful close to creating one. Still, ultimately his compassion won out and now we've got The Elongated Man as a recurring guest star that the Flash writers are hoping will be able to keep the show going another four-plus years.
4. Last week, I ruminated on how Iris had settled quite well into the role of leader of Team Flash, and how I hoped that having Harry back from now on wouldn't get in the way of Iris being the leader of the group. Well fortunately, it seems like that's not what's happening here. So far, Iris is as much leader of the group as anyone else, while Harry has settled into a different role. The same way Joe is Barry and Iris' father, Harry has seemingly become a father figure for Cisco, offering the occasional scientific advice as needed and otherwise staying quiet.
This episode, he's mostly a background player, only giving Cisco the idea to sit down with Cynthia Gypsy's father man to man in the hopes that they could find some common ground, then later in the episode offers the idea that Cisco shouldn't just try to hide from Josh's hunt, but instead hunt him back. Tom Cavanugh's built-up chemistry with Carlos Valdes supplied much of the non Ralph Dibney-related humor here, and helped make the episode much stronger as a result.
5. By the end of the episode, Barry offers to help train Ralph in the use of his powers, and perhaps try to get his life back. His willingness to befriend even someone he once found repulsive pays off too, as he learns the identity of this season's villain, Clifford DeVoe. This is probably the first time the writers have set up something so blatantly across seasons, as they have multiple flash-backs to the villains who mentioned DeVoe from season three. It feels good seeing the show pay off something they set up over a year ago, and I appreciate that we're finally on track for a season that'll be even better than the first.
The Flash airs on The CW on Tuesdays.