3 Reasons To Watch Call The Midwife's Holiday Special 2017
by Rachel Bellwoar
It's Christmas 1962 in Poplar, London. When a blizzard puts out even the milkman from making his deliveries, the Nonnatus House midwives must continue working in the snow without milk for their morning tea. With babies to deliver, frozen plumbing, and Christmas pageants to go on, fans of British television will know Christmas night comes with staunch competition.
BBC America's airing Doctor Who's "Twice Upon A Time," in the same time slot, but for what Call the Midwife lacks in Time Lords, it makes up for in igloo construction and handmade, knitted hats.
Here are three reasons to watch this year's Call the Midwife Holiday special: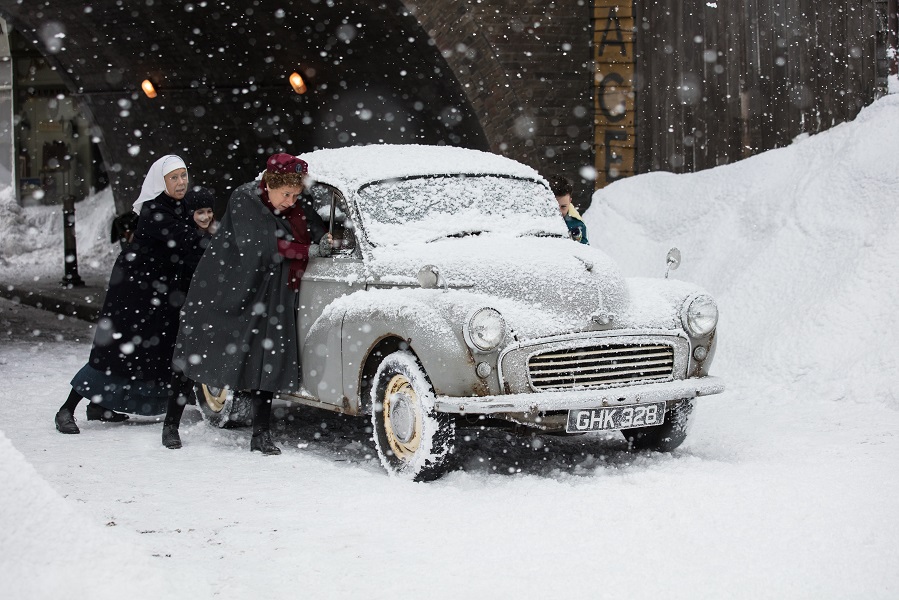 1. It's onto the pulse of 2017
In a year that will be remembered for the many brave women who've spoken out against sexual harassment, on the show, Sister Julienne meets a woman who took her abuse in silence, frightened into submission to survive. In 2017 we're finally starting to see abusers face consequences, and a conversation's being had, but when this behavior's been socially accepted and allowed for so long, it's critical that the conversation continues.
2. There's a Christmas miracle.
Call the Midwife's Holiday specials have never felt obligated to be overtly cheery, but there's one storyline, it must be said, that has some Christmas magic running through it.
3. The show tells the stories of people that society didn't talk about.
Many period dramas tend to erase children with disabilities, and lack of resources, knowledge, and understanding meant many kids and adults at the time were kept behind closed doors, or sent away. Call the Midwife promotes tolerance and, after moving in with Fred and Violet last season, it looks like Reggie (played by actor Daniel Laurie, who has Down syndrome) is set to become a series regular, which couldn't be more welcome news.
Here's a short trailer:
Call the Midwife's Holiday Special 2017 airs Monday, December 25th at 9 PM EST on PBS.