Join the MINE! Anthology For A Launch Signing At Forbidden Planet In NYC On Saturday
by Hannah Means Shannon
This Saturday, December 30th, there's going to be a big signing even for the Mine! comics anthology featuring a host of comics talent in attendance at Forbidden Planet NYC.

The anthology arrives in comic shops on Wednesday, December 27th, and contains dozens of stories about trailblazing women, civil rights leaders, first visits to Planned Parenthood, services they provide including STI screenings, HIV/AIDS treatment and prevention, as well as "fantastical stories with superheroes". "Greek mythology, star ships, and futures both with and without Planned Parenthood".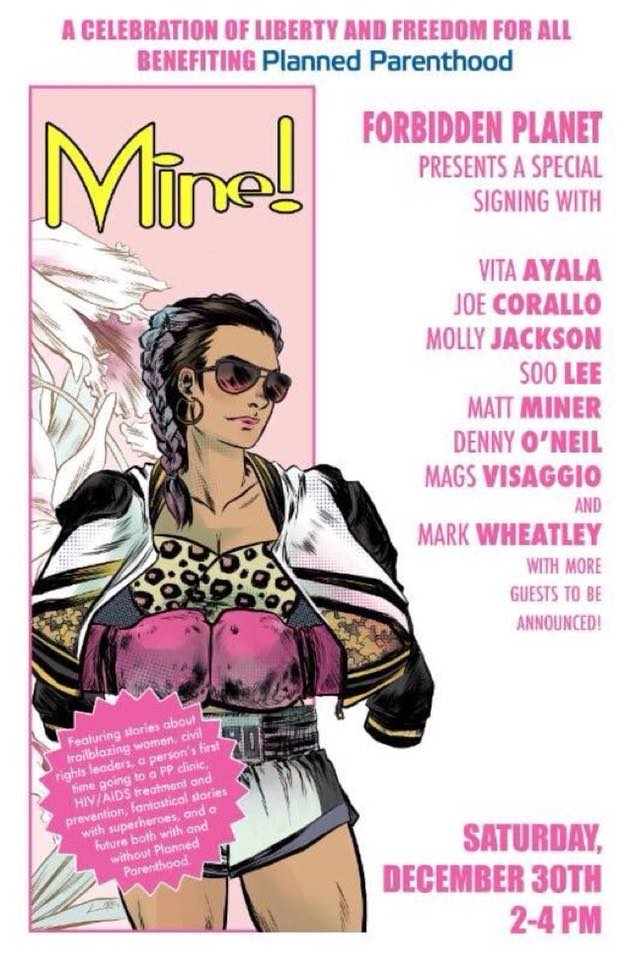 Forbidden Planet in Union Square will host the signing on Saturday from 2-4PM featuring cover artist Soo Lee, contributors Vita Ayala, Robby Barrett, Keith R. A. DeCandido, Mary Fan, Kelsey Hercs, Joe Illidge, Liana Kangas, Dave Kelly, Fabian Lelay, Diana Leto, Adam McGovern, Matt Miner, Stuart Moore, Mindy Newell, Denny O'Neil, Andrea Shockling, Sheilah Villari, Magdalene Visaggio, and Mark Wheatley, editors Joe Corallo and Molly Jackson, and more!
Proceeds from the book will be donated to Planned Parenthood and they will be accepting additional donations for Planned Parenthood as well.
Find out more on the event's Facebook Page right here.