Two Scoops Of This Comic, Please: Advance Review Of Ice Cream Man #1
by Rachel Bellwoar
What does the ice cream truck mean to you?
For me, the ice cream truck means racing to the front door and trying to open it in time before the truck drives past. Chris O'Halloran uses loud colors for the music notes, but on our street the song could only be heard when it was on top of you. Between that, the speeding, and the neighbors that left flagging the driver to us, the reward for success was sweet, but frequent misses made it tough to keep attempting after a while.
The ice cream truck was something I always chased with a parent. When the Ice Cream Man asks Byron where his parents are in Ice Cream Man #1, it comes off as old-fashioned. He's wearing a uniform and using words like "golly" and "jiffy." It's not off-brand, but it does bear asking "Why?". Why, when you are walking distance from your house, does it feel like you need someone to accompany you to buy ice cream?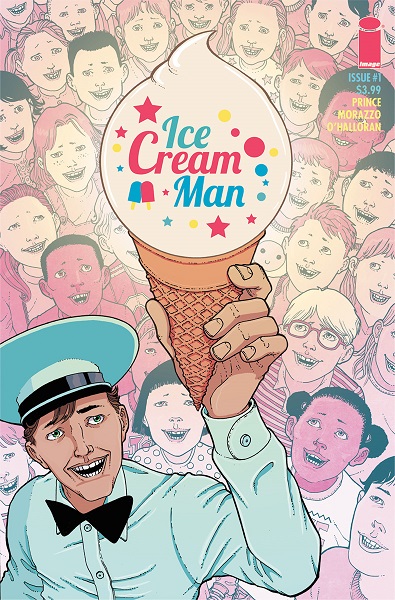 On the surface, Ice Cream Man #1 is wholesome and safe, much smoother than any ice cream truck experience I've ever had. Parents and children form an orderly line and are on a first name basis with the driver. There's a sunset in the background. Sure, none of the kids have settled on a flavor they want in advance, despite having plenty of time to make up their minds, but as long as there are cell phones (confirmation this story is set in the present), there are people willing to wait their turn without making a fuss.
Right when you think your nerves might be an overreaction, writer, W. Maxwell Prince, and artist, Martín Morazzo (the team behind IDW's Electric Sublime), have Byron walk up to place his order. Looking down at Bryon from inside the truck, nothing about the exchange they have is reportable (especially after you meet the detectives who walk the beat in St. Generous — reporting crime to them is a losing battle).
Yet before Byron steps forward, you catch the Ice Cream Man's eyes lingering on his last customers. While they're talking, the panels close in on them, until they're the only two people there. And finally, ice cream cone in hand, the panels back up so you can see the pair in profile. Leaning forward to hand the dessert over to Byron, the gap between them seems larger and the other people are back in frame, to remind us Byron's not alone, but if this is what a safe interaction feels like, you can imagine how the rest of the issue goes.
Designed to be an anthology series, where the cast and situation change but the Ice Cream Man's always around, there's a point in issue one when it dawns on you that this is really a one-shot. What that means for the series should become clearer after issue two, but it makes a difference already in issue one. This is a story that feels like it could've sustained a much longer run, so when the plot speeds up and starts to resolve itself into something self-contained, there's a feeling that anything might happen. The story is allowed to go for these crazy moments because the world isn't precious. Prince, Morazzo, and O'Halloran can burn the place down if they want. Nothing's off the table.
While that makes it's hard to say what's next for Ice Cream Man, like ice cream, the possibility of different flavors is part of the attraction. For a story full of dread that hits too close to home (the truck's parked right outside), Ice Cream Man possesses the special intelligence of a project that strives to do something new, an intoxicating experiment in form.
Ice Cream Man #1 goes on sale January 17th, 2018 from Image Comics.