Advance Review Of Rich Tommaso's Dry County: When Crime Comes Calling
by Hannah Means Shannon
The first issue of Rich Tommaso's Dry County will be arriving on March 14th, 2018, bringing us a remastered and gorgeously recolored version of an earlier work by the cartoonist behind Dark Corridor, She Wolf, Spy Seal, and much more. Tommaso has always occupied a unique space in indie comics as someone whose style is as classic in feel as the Hernandez Brothers, as evocative of comics history as the work of someone like Dan Clowes, but also makes conscious attempts to veer into the borderlands of the mainstream through its engagement with genre. And Tommaso's genre choices are inspired by a clear passion for each one that he picks up, whether crime noir, horror, or the Herge-like experiment Spy Seal.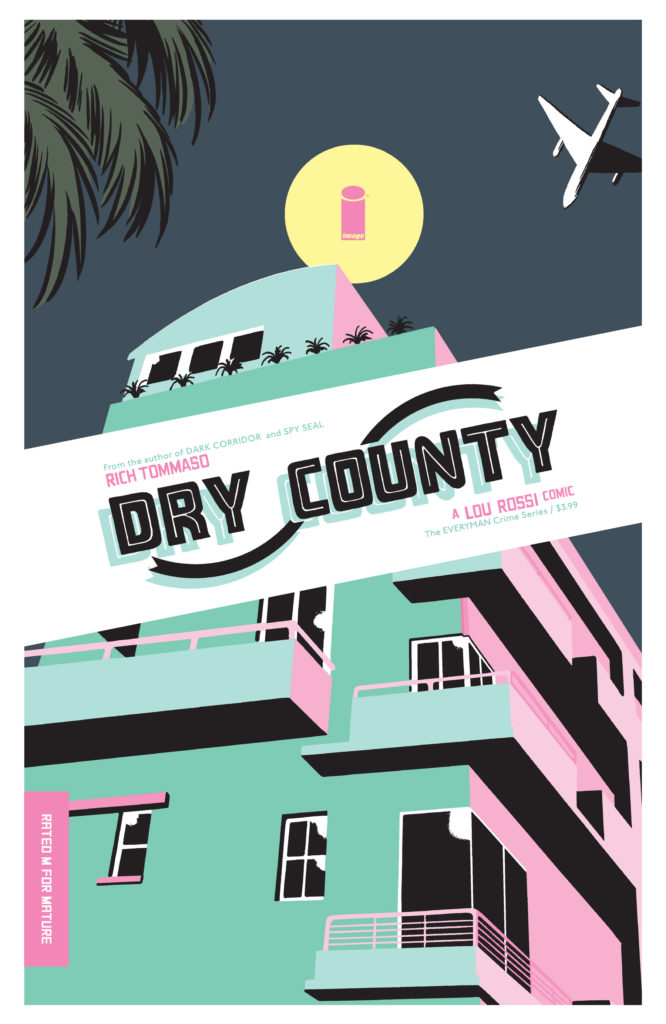 In a recent interview with Comicon.com about Dry County, Tommaso revealed something that I've probably realized ever since his Recoil Comics imprint and his book The Cavalier Mr. Thompson: A Sam Hill Novel. And that is how integral the crime story is to his work, to the point that it's an underlying factor in shaping his career. In Dry County, we get to see Tommaso back on that turf, bringing an earlier work to new life in full-color form in a way that strongly shapes the narrative.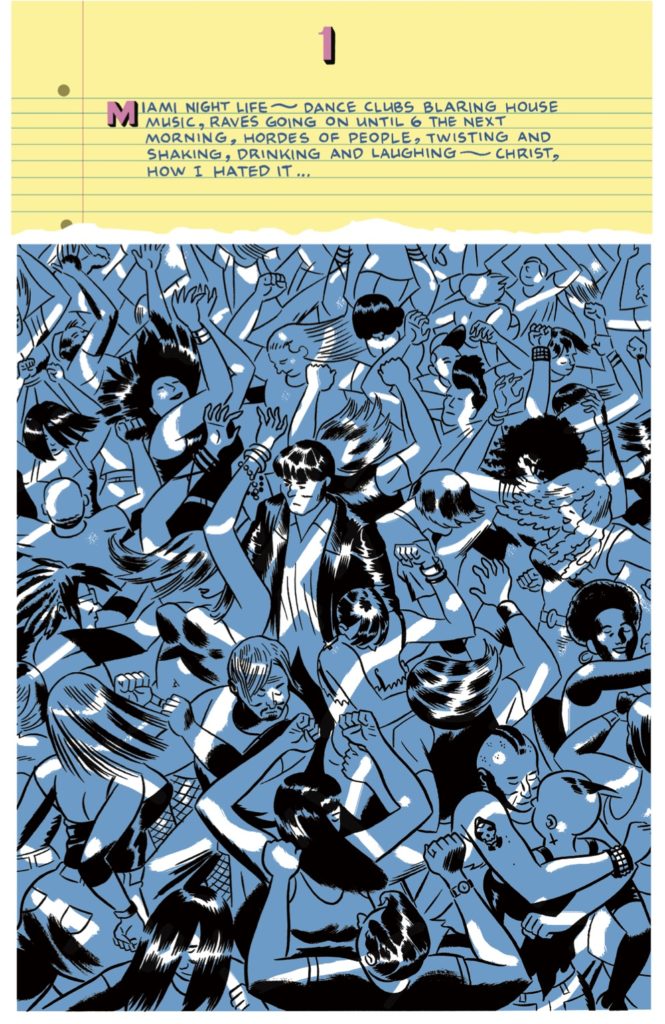 One of the most sure-fire ways to set up a crime story is to introduce a narrator who is hopeful, but bored, prone to introspection, desirous of extroversion, and that extroversion usually has something to do with the driving force of an individual or individuals who enter their life in a meteoric way and then introduce significant complications. They get "drawn in" to something bigger than they realize because they are primed for action. As witness I call the noir detective fiction that we all love which always starts with a detective musing at a shabby desk in a darkened room, waiting for a development, a case. Then SHE walks in. You could go back further to Sherlock Holmes for this pattern, too. Remember how terribly bored he gets when there's no game afoot? When crime comes calling, it's the bored detective's salvation.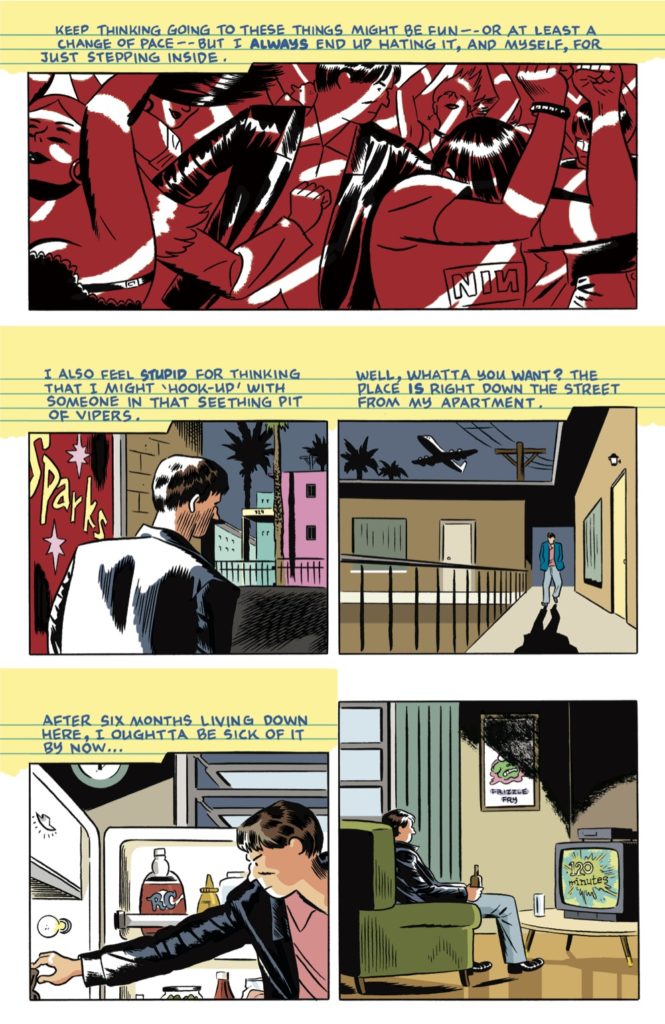 However, what's unique and intriguing about Dry County is that it's set in Miami in the 1990's and not in the slick, stylish realms of nostalgic crime noir. Tommaso makes Miami slick and stylish, but also a little dark and menacing, all while convincing you that this is all plausible. It may be a little bit of a stretch that a young woman would disappear under mysterious circumstances, but sadly it's not that much of a stretch in the real world, especially with some violent relationships in her past.
That's what will give the reader a sense of emotional edginess. Not only do we want to the bored, low-paid apartment-dweller Lou Rossi to find a girl to share his life, but we begin to realize that his potential partner could really be in serious trouble, and by extension, the impetuous Rossi.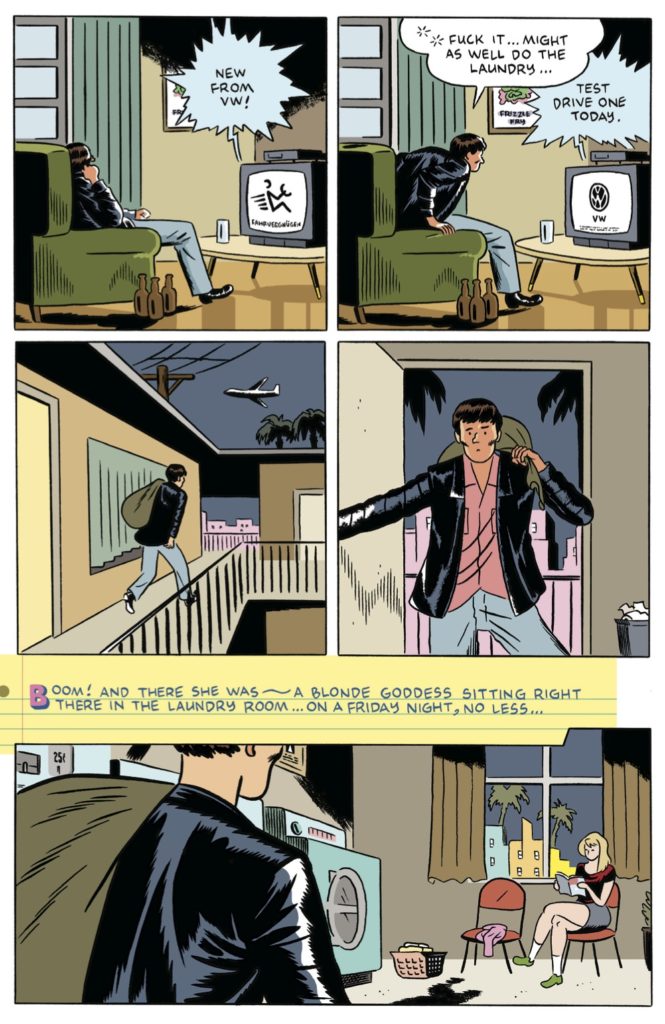 The artwork on Dry County speaks for itself, seeming to convey a great deal of information, but actually withholding plenty. Tommaso's choices in line art, line tension, and these rich new colors seem to always keep you in that zone of wondering just how sinister things might get before reassuring you that this is just a story about an ordinary life. Or is it?
Dry County #1 has a remarkably addictive quality to it–one you don't feel creeping up on you. By the time you've read the first issue, you'll certainly read the rest. So roll up for a deceptively clean-lined and engaging little story that might get real dark real fast, but one which you'll want to follow to the end of the road.
Dry County #1 arrives in comic shops on March 14th, 2018, and reaches Final Order Cut-Off (FOC) today, February 19th, so get your orders in at your local comic shop!