Madden '18 Ultimate League Week 3: An Undefeated Showdown
by Gary Catig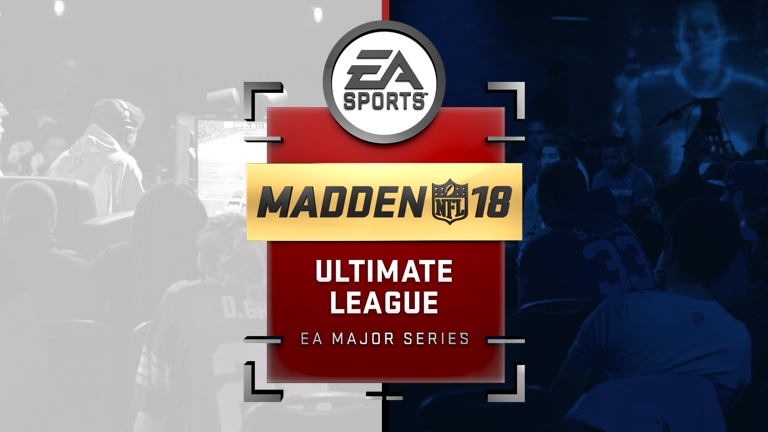 The third week of the Madden Ultimate League continued with another eight games.  The early part of the season has been focused on the Legend Conference as this is the second straight week where the Elite Conference was inactive.  However, this was the first week of interdivision games which opened up the competition.
This week's featured matches had all the undefeated players in the Legend Conference in action.  For a battle of Division A supremacy, Raidel "Echo Fox Joke" Brito took on Trae "Tweez" Bapes.  In the other game, one of the best players of all time, Eric "Problem" Wright played against the winless Jahmal "Musafa Jones" Daniels.  With only 10 games in a season, Musafa needed to win this game or start the season in an 0 – 3 hole.
For the first match up, Tweez kicked off to his opponent to start the game and Joke began his drive on his own 40-yard line.  A few plays later, Joke rushed up the middle for a big 38-yard run into the end zone to jump to an early 7 – 0 lead.  That would be the score and the end of the quarter.
The beginning of the second quarter had Tweez with the ball.  After his first play, he changed his pace by running a no huddle offense.  This change seemed to be effective because he scored a touchdown two plays later with a 24-yard pass.  Tweez even became chesty as he had a few words for his opponent's defensive strategy.  Joke took little time to respond with his first play he threw a big 58-yard touchdown pass.  He didn't really talk much, but he did wave bye as he saw his wide receiver blow past his coverage.  Tweez came back with a 67-yard scoring drive that was ended with a 37-yard run.  He continued to trash talk his opponent after the TD.  Unfortunately, Tweez left too much time on the clock and Joke was able to kick a 29-yard field goal before halftime.  As the two went into the break, Joke was up 17 – 14.
Tweez received the kick off as the third quarter commenced.  He marched his way down all the way into the red zone, but threw a costly pick.  Joke couldn't do much after the interception and was forced to punt the ball.  On a short field, Tweez responded with another touchdown scoring on a 9-yard low throw reception recapturing the lead 21 – 17.  That lead was short lived though as Joke scored on a 59-yard TD pass to end the quarter, 24 – 21, Joke.
Joke would score another TD in the first minute of the final quarter on a 26-yard run.  Up by double digits, he stood up to respond to all the smack his opponent has been talking all game.  Tweez countered with a 13-yard touchdown run to cap a 70-yard drive.  He would need another stop for a chance to take the lead, but there was only 2 minutes left.  Any hopes Tweez had were quickly extinguished on the kick off as Joke ran the kickoff back for 7 points, pushing the lead back to 10.  Joke would force a turnover on downs as he had back to back sacks on third and fourth down.  From there, he just ran the clock out and won 38 – 28.
Joke would end the day atop the Division A standings with a record of 4 – 1.  Tweez dropped into second place as he went winless in Week 3 and an overall record of 2 – 2.  For the featured game, Tweez needed to improve his defense as he gave up a lot of big plays.  Also, every time he scored, he couldn't force a stop allowing his opponent to answer with a score of his own.  It's hard to build momentum playing like that.  Finally, there was a lot of jawing back and forth between the competitors this game, and it would be entertaining if they were mic'd to hear what they were precisely saying.  Maybe though, since the games are aired on Disney XD, they might not be saying things appropriate for that audience.
The other game, Musafa started with possession first, but turned it over half way into the quarter as Problem picked off a pass.  The man some called the G.O.A.T. couldn't fully capitalize on his interception as he walked away with only 3 points after a defensive stand from Musafa inside the red zone.  The first quarter ended 3 – 0, Problem.
During the next quarter, Musafa broke a 36-yard running touchdown to finally get on the board and take the lead 7 – 3.  The TD energized him as he got back into the game.  He carried that momentum on defense when he laid a big hit on the running back forcing and recovering a fumble.  On his ensuing drive he scored another touchdown on the ground with a 32-yard run.  Problem was able to tack on another 3 points before the half cutting his deficit to 6 – 14.
Problem began the third quarter on his own 23-yard line after the kick off.  He only needed one play, a 77-yard bomb, to score and reduce the lead to 1 point, 13 – 14.    That would be as close as the leader of the Legend B Division would get though.  On the next possession, Musafa made his way to the 1-yard line.  On third and goal, he was able to punch it in on the ground extending his lead back to 8 points.  He was rolling on all cylinders as he forced another turnover by intercepting Problem on his first play.   Musafa would add another 7-yard TD run in the fourth quarter and would eventually win 28 – 13.
Despite the loss, Problem would still end up first in the Division B with a record of 4 – 1.  Musafa Jones was undefeated during Week 3 and climbed out of the cellar into a tie for second place.  His record would be 2 – 2.
Week 3 Scores:
Echo Fox Joke vs. Tweez                                38 – 28
Problem vs Musafa Jones                               28 – 13
Drini vs Dubby                                                  21 – 17
Echo Fox Joke vs. Problem                            17 – 35
Tweez vs Musafa Jones                                   24 – 28
Dot City K-Aus vs True                                    17 – 20
Drini vs Problem                                               21 – 31
Echo Fox Joke vs Dubby                                 28 – 14
Week 3 Standings: