Twisted Romance Wraps Up With A Fantastic Fourth Feature
by Richard Bruton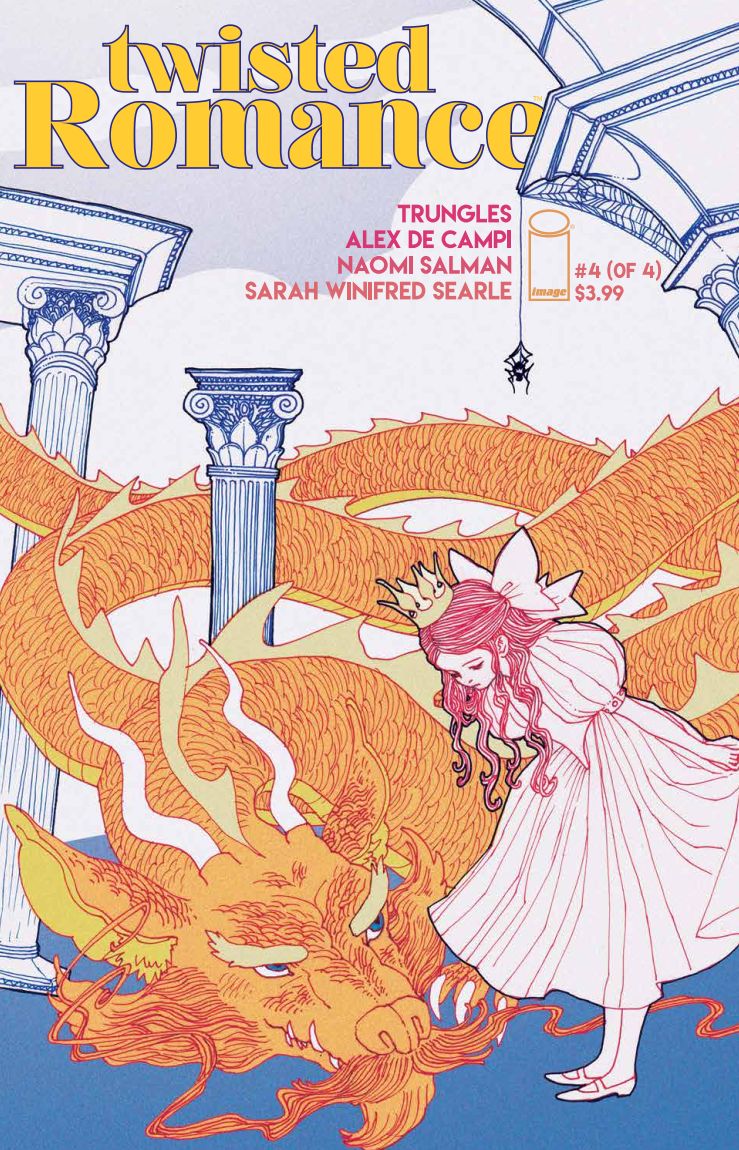 (Cover to Twisted Romance #4 by Trungles)
Four issues in and it's the finale of Twisted Romance, the 4-issue series masterminded by Alex de Campi and calling up a number of predominantly non-male creators, including a fabulously diverse lineup of queer creators and people of color to deliver some magnificently unconventional tales. The only sad thing about the whole thing is that it was just a four issue series. If we're very lucky, perhaps we'll be able to convince Image and de Campi to make this a regular thing in some way, as it would be magnificent to get more Twisted Romance in our lives.
This fourth issue is entitled "Treasured" and the three tales all explore just what that means.
First of all, there's Alex de Campi and Trungles, with the quite magnificent "Treasured", and part of me really got pissed at Alex, because here was I thinking her "Twinkle and the Star" from issue 2 was absolutely the high point of the series. But with "Treasured", she's done it again. In just a few pages, she turns a classic fairy-tale on its head, delivers another beautifully unconventional romance, and gives us something so full of sadness and pathos. You turn each page and she delivers again and again. And all of a sudden I'm thinking that there's not one, but two stories from Twisted Romance that might be making a best of my 2018 lists.
Just like all the best fairy tales, it starts with this…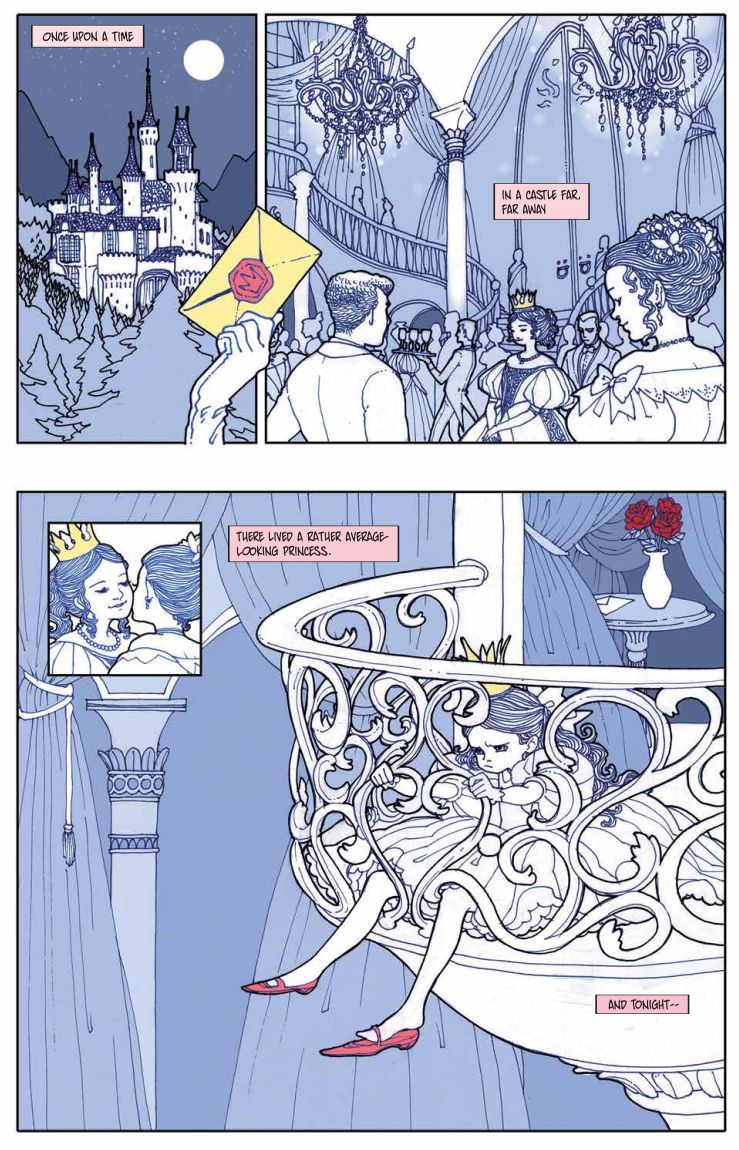 (Once upon a time. The classic opener. To a very unconventional conventional tale. Art by Trungles)
This little princess is pissed off. She doesn't want to be grown up, doesn't want to be presented to society, and just wants to run away, climb trees, and never come down. So she does. And like in all conventional fairy tales, she meets a nasty old thing, a nasty old thing disguised as a snake, offering to help her out with all she wants.
"I don't want to do my lessons. I don't want to learn etiquette, and I especially don't want to go to stupid balls in awful dresses."
"I can help you with that."
And all it takes is a kiss, a kiss for the serpent with the heart of a dragon. Oh, you know it's not going to work out well. And of course, it doesn't. The kiss frees the dragon, and the dragon imprisons the princess. And everything gets dark. No longer a sweet fairy tale, it's transformed into a tale of obsessive love, of dependency, of bullying, imprisonment, toxic romance. Initially she was happy, when the dragon tells her how beautiful she is, how smart she was. But over time, she realizes how bad things are, how trapped she is…
"Being treasure wasn't all it was cracked up to be."
And then de Campi turns it all on its head once more, as the Princess, with a little help from a spider, who is clearly not just a spider, finds strength from inside. It's powerful, it's lyrical, it's perfectly rendered by Trungles. It's a fabulous piece of short comic art in a series that's been absolutely full of them.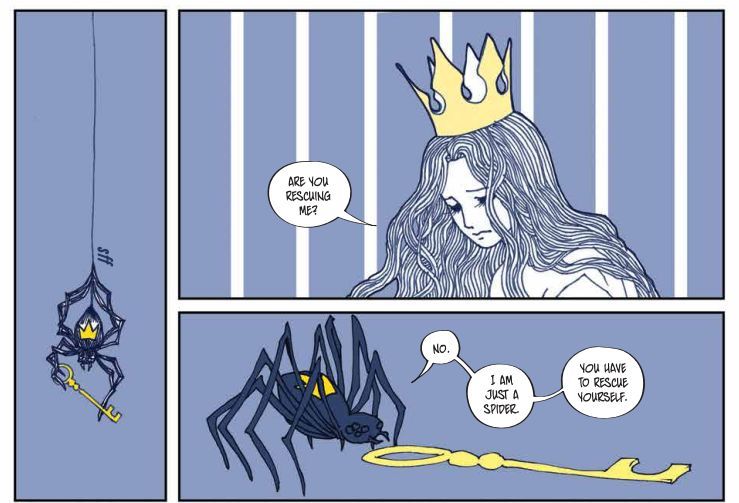 The backup strip in this issue is "Legacies" by Sarah Winifred Searle, which tries so hard to deliver something complex, but it never really fires the way it wants to, never really delivers the message it wants. Again, perhaps coming after the beauty and power of "Treasured", it was always going to be a hard sell.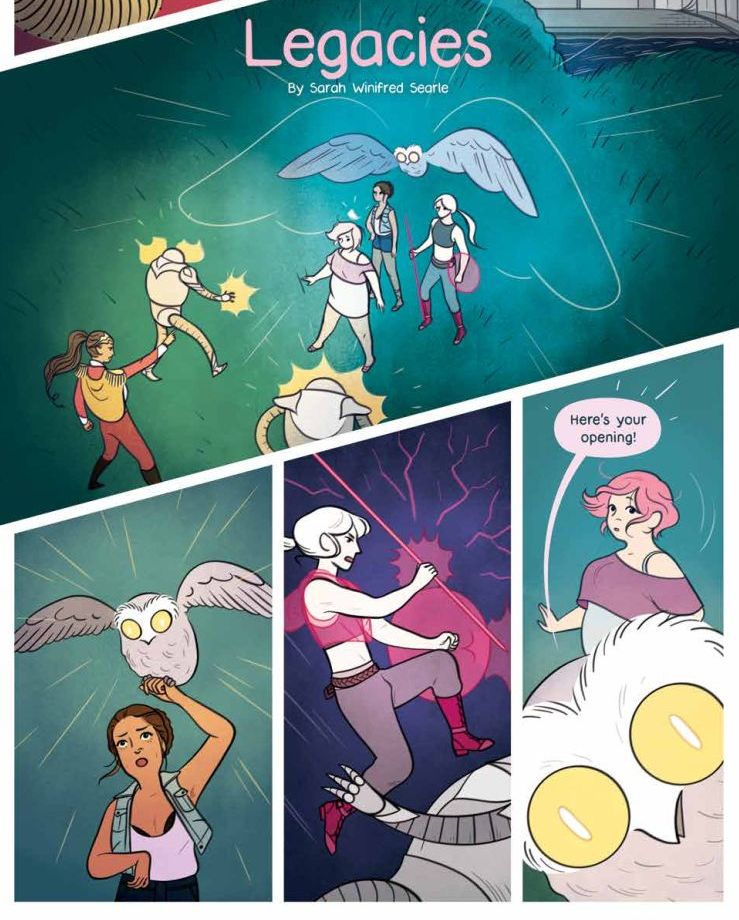 (Legacies by Sarah Winifred Searle.)
Then a five-page prose tale this time around is "Unbound" by Naomi Salman. And although you wouldn't think something that starts with this line would really fit into a fairy tale theme of treasure…
"And there's a sex club downstairs."
But it does, as a rather straight and uptight tenant moves in upstairs, and meets one of his downstairs neighbors, things get interesting. After all, what's more, fairy tale than a guy slowing falling in lust and love with the bondage-delivering young man downstairs?
Twisted Romance #4: "Treasured" hits comic shops on February 28th, featuring, "Treasured" by Alex de Campi and Trungles, a backup comic from Sarah Winifred Searle, "Legacies", and a prose story by Naomi Salman, "Unbound".